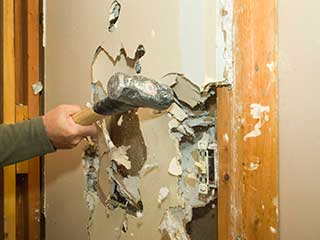 Located in Southern California, Burbank is a town that is home to a number of residents as well as film industry professionals, as it contains many of the nation's top media companies. Whether you are a home or business owner in Burbank, you will want to think about the best ways to keep your property looking polished, modern, and ready for business of any kind. One of the most popular building materials for Burbank homes is drywall, because it is a good neutral palette to decorate on top of. However, from time to time there may be the need for drywall repair Burbank, in which case you will want to use a local drywall company.
There are many different benefits to choosing a local Burbank drywall repair company as opposed to calling in other contractors. To begin with, it's helpful to first look at the different types of repairs that you may have need of. Although drywall is well known for being extremely durable and resilient, it is also susceptible to water damage. Burbank is not known for extremely wet weather, but there are occasional flash floods in the summertime, as well as humidity which can seep in over time and lead to water damage.
This usually manifests itself in the form of mold or mildew
Not only can mold be unsightly, but it can also present a health hazard if left untreated, so it is a good idea to use a local drywall repair Burbank company to take care of this. They can strip away any areas that have been infested by mold or other damage, and then replace these areas with fresh drywall. This will help keep your air clean, and your home dry and safe. Another benefit to using drywall is that it is fire-resistant, so keeping tabs on any damage that has occurred is important for this safety reason as well.
In addition to helping tackle drywall repair Burbank that is due to water damage or other natural disasters, the top drywall companies can take care of other installation and service needs that you might have. If you want to remodel your home, for example, and are putting in new walls, floors, or other extensions, you will need to have new drywall fitted in as well. With the mix of drywall, wallpaper, and other wall coating materials, you will have an easy way to make your house look better than ever.
Count on us when it comes to:

Drywall & Ceiling Repair

Drywall & Ceiling Texture

Bathroom Tile Installation

Acoustic Ceiling Repair